Abrasives - Honing Stones, Diamond Stones, Abrasives
Abrasive Honing Stones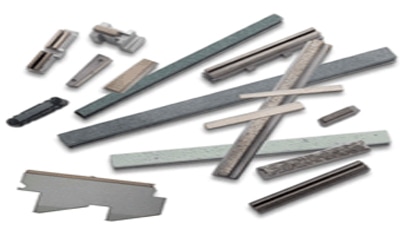 Honing stones from PSS-Abrasives & Tool Division are engineered and manufactured to optimize the performance of a variety of finishing processes. The abrasive stones are produced in our facility using a proprietary process and specialty bonds. We adhere to strict quality control procedures to give you consistent results time after time.
Conventional Microabrasives – Our Vitrified and Resin bonds using aluminum oxide and silicon carbide are superior for cutting steel, iron, monel, stainless, cast iron, non-ferrous materials and plastic.
Superabrasives – Our stones of Cubic Boron Nitride (CBN) accelerate stock removal and maintain a long abrasive life in ferrous material. Our Diamond stones, in turn, are excellent with cast iron, chrome and carbide.
Honing Stones for use in 

virtually every honing machine on the market.

Production Honing Stones – Created for specification for high volume applications.
MicroMold® Abrasives -- Encapsulated in plastic to extend the life of the honing tool.
Conventional Non-Diamond Abrasives
Micromold

Vitreous bonded

Aluminum Oxide

Silicon Carbide
Superabrasive
Engine Block

Tube honing

Gear honing
Product Compatibility
Our products are created for the following machines:
Accu-Cut
Barnes
Delapena
Engis
Fuji
Gehring
General Hone
Jones and Shipman
K-Line
Kadia
Micromatic
Nagel
Superior
Toyo
Others